Jupiter
is the fifth planet from the sun, and is the largest planet in the Solar System.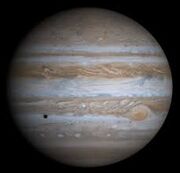 Saturn
is the second biggest.
It takes 12 years to orbit the sun.
It takes 9 hours for a single roation.
Jupiter is the biggest planet with the rarest gasses.
Moons: 64
Had Jupiter been a bit bigger, it could've been a star.
Jupiter sent a message to Earth in the 1980's.
Galileo sent by Space Shuttle Atlantis was able to send back amazing facts about the great planet.
Jupiter is the outer planet that is closest to the sun. Neptune is the farthest.
Jupiter sort of looks like a brown-orange marble but is very large, so it could be a big marble if you bought marbles as a toy.
| | |
| --- | --- |
| | "I think we forgot something." |