RollerCoaster Tycoon 3
is a 2004 rollercoaster/management video game and is the third installment in the RollerCoaster Tycoon game series.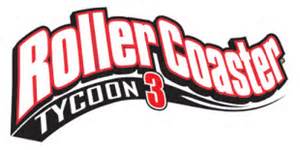 Players can build Rollercoasters in this game to entertain lots of guests who visit it. Players can also take charge of other rides such as Thrill Rides, Gentle Rides, and Junior Rides. They can add food and drink stalls for guests' hunger and thirst, and bathrooms and first aids. Players can hire staff to clean up or fix rides, and even build a swimming pool to help cool down the guests.
Management in this Game
Edit
Players have the ability to add items to food and drink stalls, such as including lime in drinks or hot sauce on foods. Players can also change the price for the food and drink, and can also add as much as they prefer. Players can also hire staff to fix up rides and tidy up the whole place to make it pretty.