Sid Meier's Pirates is a 2004 quest/action/adventure video game developed by Firaxis Games and published by 2K Games. The game was made by Sid Meier, who later created Sid Meier's Railroads, which had the same title of Sid Meier's Pirates.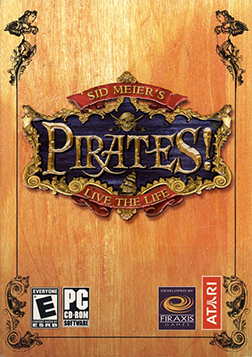 Players start at the beginning of the game where they change their profile settings and pirate name. After they are happy with those settings, they choose if they want to be part of the English, Spanish, Dutch, or French. After they choose, it's time to sail. There are many quests to do on this game such as Finding Gold, discovering Lost cities, finding lost family members, and defeating the villain of the game, Marquis de la Montalbán who is part of the Spanish.
Finding gold
Edit
If players go to the traveler in the back of a tavern in a city, they can choose to see if they want a piece of a map full of one of the other evil pirates's treasure. Once players get all the pieces, they can now go and find where that gold is located. After the players find the gold, they earn some cash which actually is gold.