The Lego Movie is a 2014 film directed by film directors Phil Lord and Chistopher Miller, who earlier directed the movie, Cloudy with a Chance Of Meatballs.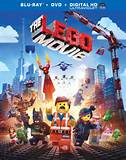 An ordinary construction worker named Emmet finds a red block underground which is called "The Piece Of Resistance"  who then gets captured by cops. Later, a master builder named Wyldstyle comes and rescues Emmet from a villain named Good Cop/Bad Cop. Meanwhile, Lord Business plans on destroying the world with his newest weapon, the Kragle. Later, Wyldstyle thinks that Emmet is the hero to save the world, but later finds out that Emmet is not special, and he and Wyldstyle end up in The Old West. After they find Vitrivius in a nearby small town, they escape the town and fly in the Bat mobile which Batman flies. All four later enter Cloud Cuckoo Land, where they meet Unikitty, Metalbeard, and Benny. After they join the gang, they make a submarine which takes them underwater where all of Cloud Cuckoo Land is, which sadly is destroyed. Then, Metalbeard helps the gang who were lost at sea, get out of there. Then, Emmet starts a plan which later backfires. Emmet then jumps off Lord Business's lair and falls into the real world. A boy named Finn, who actually was the one who was doing the whole thing, then, his father "The Man Upstairs" who is stunned by what his son did. Later, Finn helps Emmet save the world and city, who later made Lord Business a good guy. But at the end of the movie, The Man Upstairs tells Finn that Finn's younger sister can come and play with the Lego set, which later puts Duplo's in it and says that they are going to destroy them.
Reception
Edit
The Lego Movie has received universal acclaim. It currently has a 96% "certified fresh" rating on Rotten Tomatoes based on 196 reviews, with an average rating of 8.1 out of 10. The website's consensus reads, "Boasting beautiful animation, a charming voice cast, laugh-a-minute gags, and a surprisingly thoughtful story, The Lego Movie is colorful fun for all ages."[1] On Metacritic, which assigns a normalized rating out of 100 based on reviews from critics, the film has a score of 82 (indicating "universal acclaim") based on 41 reviews.[2] According to CinemaScore polls conducted during the opening weekend, the average grade cinemagoers gave The Lego Movie was A on an A+ to F scale.[3]
The main theme "Everything is AWESOME!!!" is preformed by the Canadian pop duo Tegan and Sara.
References
Edit